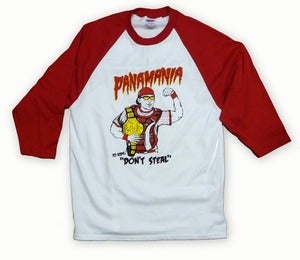 I own this tshirt. Isn't it amazing? The guys at Birdland have the best tees. I was looking at Birdland tees on my blackberry one night when I spotted this gem. No contemplation was necessary and the shirt was purchased immediatly. I don't want to brag or anything but the day that I got it, Chooch himself hit a dinger against the Diamondbacks.
This was the same night that, apparently, a Phillies fan won $1,000 in the Payoff inning thing
. Now, I like to think that my wearing of the Panamania tshirt may have brough ol Chooch a little extra good luck. If the prize winner wanted to give me a little bit of a commission for arranging that good luck -- well, I certainly wouldn't object.